Top
$100,000 next-day deposit rule for federal 941, 944, & 943
Article ID: 2000664
Overview
This article contains information about the $100,000 next-day deposit rule.

Assumptions
You have a payroll that has a federal tax liability of $100,000 or more.
Details
$100,000 Next-Day Deposit Rule: When any single payroll (or a combination of payrolls within an assigned "deposit period") has a federal tax liability amount that exceeds $100,000 (line 10 of Form 941 or line 9 of Form 944), you must deposit the tax by the next banking day. California (CA), Oregon (OR), South Carolina (SC), and Arizona (AZ) also follow this same rule and you must make your state payment on the same day they make your IRS payment. Note: Payments to CA, OR, SC, and AZ still need to be made on the same day as the IRS even if the state tax liability is below $100k.

Whether you are a monthly or semi-weekly scheduled depositor, you must remain on a semi-weekly schedule for the remainder of the year and the following year.
Service Specific Information
Enhanced Payroll and E-pay Service for QuickBooks Desktop
You must make the payment directly to the IRS instead of using the QuickBooks Desktop E-pay service
if you accumulate $100,000 or more of 941/944/943 taxes on any day during a deposit period.  In QuickBooks Desktop, you will be advised of this rule when setting up your payment schedule for Federal 941/944/943:
See also
E-pay 940 and 941/944 in QuickBooks Desktop
In QuickBooks Desktop you will be prompted about this rule when creating a paycheck and you accumulate $100,000 or more Federal 940/943/941 taxes: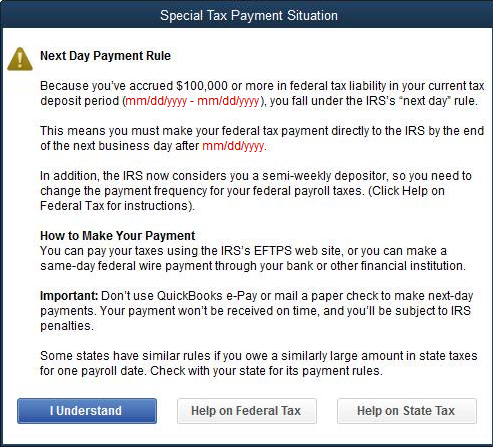 To pay through the EFTPS Website:
Make a payment through the EFTPS website (www.EFTPS.com) or through the EFTPS phone system (1.800.555.3453).  You can use the same Login Requirements that you use in e-paying in QuickBooks Desktop.
Create a liability check in QuickBooks Desktop to record your payment, and assign EFTPS to the check number.

IMPORTANT! If you use the QuickBooks Desktop e-Pay service, your payment will be processed in 2 banking days (at least). IRS will consider the payment to be late and you may be penalized.
Intuit Online Payroll & QuickBooks Online Payroll
After you run payroll, you will receive a warning if you reach more than $100,000 in federal tax liability. This payment will be considered timely to the IRS if the payment is created at least two business days before the payment due date.
Example:
| WED | THU | FRI | SAT | SUN | MON |
| --- | --- | --- | --- | --- | --- |
| Send Payroll | Submit payment to IRS | Payday | | | IRS receives payment  |
Intuit Full Service Payroll & QuickBooks Full Service Payroll
If your payroll submission will make your tax deposit exceed $100,000, the pay date must be at least 2 business days from the date of submission to allow Intuit to remit your payment on time. 

The IRS penalty for a next day tax deposit not being made on time is automatically 10% of the 941 taxes due.