Top
Print pay stubs
Article ID: 1000951
Overview
This article explains how to print pay stubs from your computer on blank paper.
Details
Choose File > Print Forms > Pay Stubs.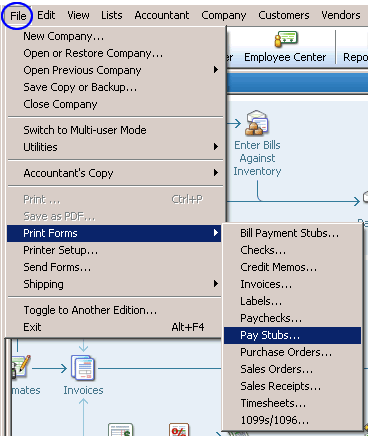 Select your payroll bank account and enter a date range that includes the pay date of the pay stub you want to print.
If you want to filter by one employee, next to Employee click the drop-down menu to choose the employee.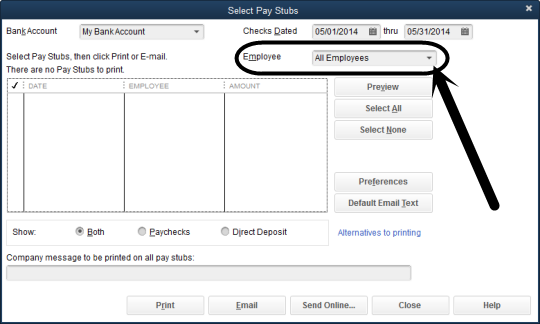 Click in the column beside the date and select the pay stub(s) you want to print.
If you want, click Preview to view the pay stub before you print it.
To select the company and employee information that will be printed on the paystub, click Preferences.
If you would like to print a global message on each pay stub, enter text in the Company message to be printed on all pay stubs box.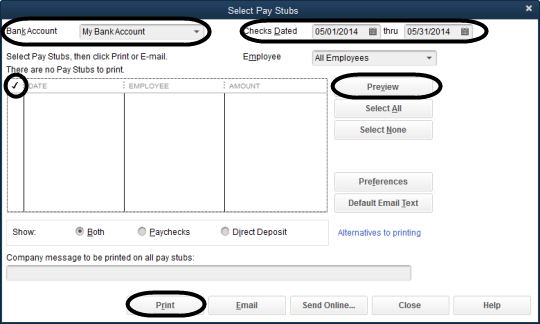 Click Print. For information about the Print Pay stubs window, click the Help button.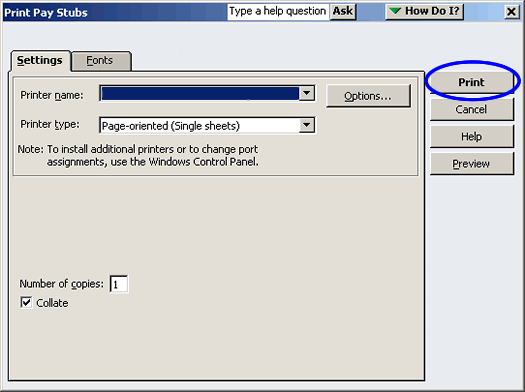 You can use plain white paper to print pay stubs. When using plain paper, keep in mind that QuickBooks Desktop applies a default layout and format (font size) that cannot be modified.
When you print paystubs on blank paper, the company name, address and phone number appear twice, at the top and at the bottom of the page.
You can also email pay stubs to your employees directly from QuickBooks Desktop. Pay stubs are delivered as password-protected PDF attachments, which preserve the format and layout of the pay stub. To learn more, see Email pay stubs from QuickBooks Desktop.

Print a Pay Stub from a paycheck:
Open the paycheck in QuickBooks Desktop.
Above the check, click the Print icon and choose Pay Stub.