Top
How to calculate the gross amount of a paycheck from a net amount paid
Article ID: 1000811
Overview
When a paycheck, such as a bonus or commission, must have a specific net amount, you can gross up the paycheck. This article explains how to do that.
This option is only available for Enhanced and Assisted Payroll customers.
Expected Outcome
You will gross up the paycheck to reflect the net amount you require.
Assumptions
You have an active Enhanced or Assisted Payroll subscription.
Details
While creating paychecks, on the Preview Paycheck window, enter a salary or bonus payroll item in the Earnings box with no rate. Using any other type of item does not work.
Under Earnings, remove any other payroll items listed.
Under Other Payroll Items, enter any deductions applicable to this paycheck.
In the Preview Paycheck window, select the Enter net/Calculate gross box at the bottom right.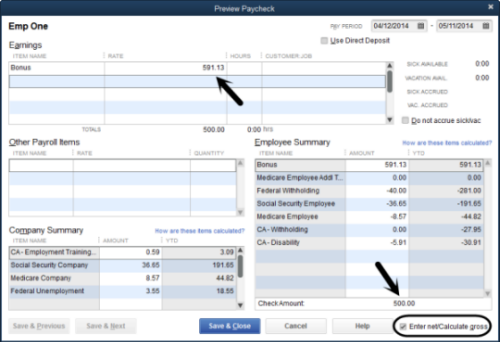 In the Check Amount field, enter the net amount (the actual amount you want the employee to receive).
Press the Tab key on your computer keyboard. QuickBooks populates a gross amount.
In the Review and Create Paychecks window, click Continue > Create Paychecks.
If you must use an hourly, piece work or addition item as the earnings item, use the trial and error method to calculate the gross.
While creating paychecks, on the Preview Paycheck window, go to the Earnings box and enter a gross amount that is higher than the desired net. Press the Tab key on your keyboard to calculate the net.
Adjust the gross amount under Earnings until you get the desired net amount.