Top
Error 15215
Article ID: 1000123
Problem
When downloading payroll updates, you receive the following error message:

Error 15215: Unable to verify digital signature.

Typically, this error is caused by a conflict with another application running in the background when you try to download a payroll update.
Details
Verify Use TLS 1.0 is checked, and Use TLS 1.1 and Use TLS 1.2 are unchecked in the Internet Options window of Internet Explorer.
Close QuickBooks.
Open Internet Explorer.
Click Tools > Internet Options.
Click the Advanced tab.
Under Settings, scroll to locate the Use TLS 1.0, Use TLS 1.1 and Use TLS 1.2 options.  (You may not find these options in your Internet Explorer version.)
Verify Use TLS 1.0 is checked.

Verify Use TLS 1.1 and Use TLS 1.2 are not checked.


Click OK to close the window.
Close Internet Explorer.

Reboot your computer.  When restarted, reopen QuickBooks.

Try to download the update again.
If the error continues, try to right click on QuickBooks program icon on your desktop and choose Run as Administrator.
If the error persists, check your system for running applications or programs that might be in conflict with downloading the payroll update, such as the CA Security Center, which has been known to cause conflicts with QuickBooks:
On your computer, choose Run. See list below for your version of Windows:
Windows XP: Choose Start > Run.
Windows 7 and Vista: choose Start > All Programs > Accessories > Run.
Windows 8: on your keyboard, press the Windows key and letter R.
In the Run field, enter msconfig. Click OK.
The System Configuration Utility opens.
Place a period (.) next to Selective Startup. Clear the Load Startup Items checkbox. See screenshot below: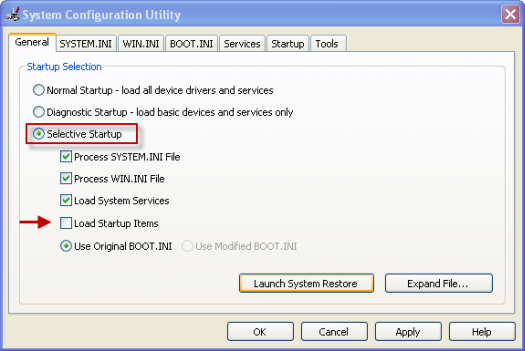 Click OK to save your changes.
Restart your computer as prompted.
If you are able to successfully download the update, follow steps 1 to 4 to go back to the System Configuration Utility.
Select the Normal Startup checkbox and click OK.
Restart the computer again.
If you were able to successfully download the update by clearing your Startup items, this indicates that one or more of the programs in your Startup items are conflicting with downloading the QuickBooks update.
If the steps above do not resolve the error, you may need to configure your Internet security, firewall or parental control settings. See Configure Internet security, personal firewall, and parental control applications for QuickBooks for additional troubleshooting steps.
This action ensures that your system functions in a normal working environment. If there are items you want removed permanently, you might need to go to the Microsoft web site and search for how to clean boot windows.
Related Articles