Top
Change the account in which payroll fees are posted
Article ID: 1000059
Overview
When payroll is transmitted, QuickBooks posts fees (such as monthly, employee or direct deposit fees) to a specific account (Payroll Expenses is the default.) This article explains how to assign the fees to a different account.
Expected Outcome
You will change the account to which payroll fees are posted.
Assumptions
You have more than one bank account set up in QuickBooks.
Details
You can change the account to which payroll fees are posted in the Send/Receive Payroll Data window:
In QuickBooks, choose Employees > Send Payroll Data.
Click the Preferences button to open the Payroll Service Accounts window and select the appropriate choice using the drop-down arrow.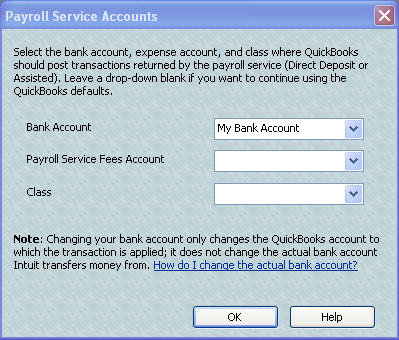 Note:
You can only choose one Payroll Service Fees Account to which fees are posted.
In the same window, you will be able to select the Bank Account where QuickBooks should post transactions returned by the payroll service (ex: Direct Deposit or Assisted).
Click Send and enter the PIN.
This Preference button lets you select which:
Bank account your Assisted Payroll liability check is recorded in.
Expense account in the Chart of Accounts is used for your payroll service fees.
Class your payroll fees are assigned to.