Top
ViewMyPaycheck: Notifying employees when pay stubs are ready
Article ID: 2000687
Overview
ViewMyPaycheck email notifications enable employers to have ViewMyPaycheck automatically notify employees when pay stubs are uploaded.
Note the following:
Only ViewMyPaycheck administrators can turn email notifications on and off in ViewMyPaycheck.
After the ViewMyPaycheck administrator turns the feature on:

Employees will be automatically notified the next time you run payroll and upload the paychecks to ViewMyPaycheck, and then every payroll thereafter. If ViewMyPaycheck administrators are also employees and paid in the same payroll, they will also be notified when their pay stubs are ready.
If you have checks dated the same day you upload paychecks to ViewMyPaycheck or later, your employees will be automatically notified as soon as you upload payroll data from QuickBooks to ViewMyPaycheck. (If you have checks dated earlier than the date you upload your paycheck information, employees will not receive an email notification.)
All employees will be notified by email when their pay stubs are uploaded and available in ViewMyPaycheck. At this time there isn't a way for individual employees to opt out of receiving email notifications after the ViewMyPaycheck administrator turns the feature on. We're still working on that. Want to allow employees to turn this feature on and off?

ViewMyPaycheck administrators can always turn the feature off if any problems come up. Simply clear the preference checkbox.
Details
(ViewMyPaycheck administrator) To turn on email notifications for your employees:
Sign in to ViewMyPaycheck (as an administrator).
Click the Preferences tab.
Select the checkbox toSend email notification to employees.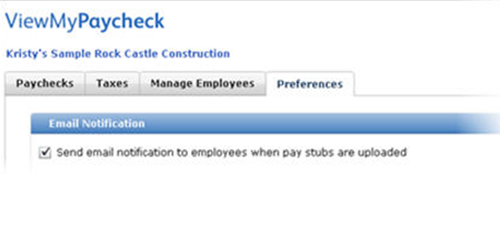 And that's it! When you upload your next payroll, ViewMyPaycheck will send an email to your employees letting them know that their pay stubs are available in ViewMyPaycheck.