Top
100K next-day deposit rule for 941 taxes
Article ID: 2000664
Overview
This article contains information about the $100,000 Next-Day Deposit Rule.

Assumptions
You have a payroll that has a federal tax liability of $100,000 or more.
Details
100K Next-Day Deposit Rule: When any single payroll (or a combination of payrolls within an assigned "Deposit Period") has a federal tax liability amount that exceeds $100,000.00 (line 10 of Form 941 or line 9 of Form 944), you must deposit the tax by the next banking day. Whether you are a monthly or semi-weekly scheduled depositor, you must remain on a semi-weekly schedule for the remainder of the year and the following year.
Service Specific Information
You must make the payment directly to the IRS instead of using the QuickBooks E-pay service if you accumulate $100,000 or more of 941 taxes on any day during a deposit period. You can:
Make a payment through the EFTPS website (

www.EFTPS.com

) or through the EFTPS phone system (1.800.555.3453). 

Note:

You can use the same Login Requirements that you use in e-paying in QuickBooks.

Create a liability check in QuickBooks

to record your payment, and assign

EFTPS

to the check number.

Note:

If you use the QuickBooks E-pay service, your payment will be processed in 2 banking days (at least). IRS will consider the payment to be late and you may be penalized.
After you run payroll, you will receive a warning if you reach more than $100,000 in federal tax liability. This payment will be considered timely to the IRS if the payment is created at least two business days before the payment due date.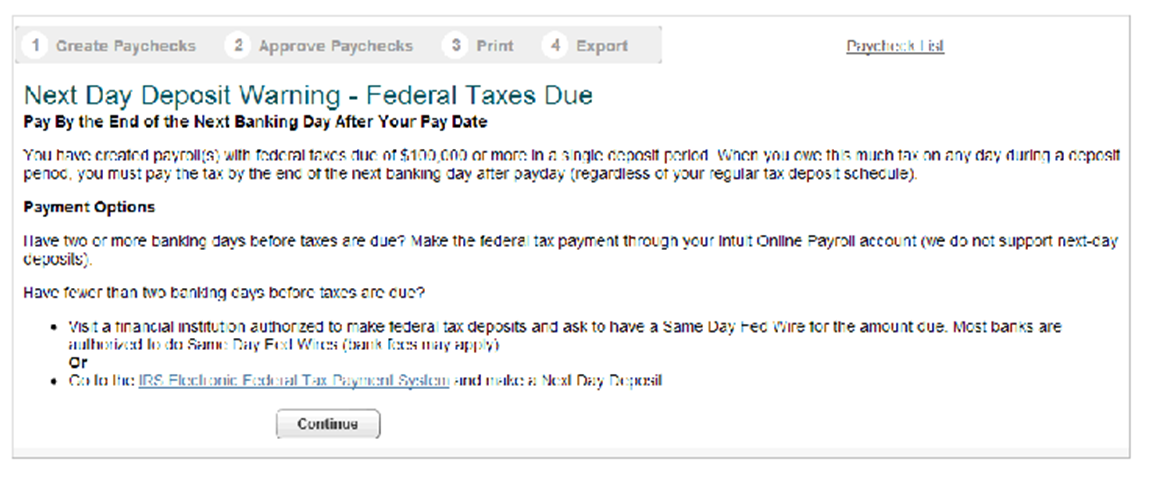 Example:
| Sunday | Monday | Tuesday | Wednesday | Thursday | Friday | Saturday |
| --- | --- | --- | --- | --- | --- | --- |
| | | | submit payroll | submit payment to IRS | pay day | |
| | payment received by IRS | | | | | |