Top
ViewMyPaycheck: Getting started (employees)
Article ID: 2000601
Overview
Welcome to ViewMyPaycheck! The following instructions are for employees who have been invited by their employers or payroll administrators to ViewMyPaycheck. If your employer or payroll administrator has sent the invitation email, but you haven't received it, go here for troubleshooting tips.
Are you an employer or payroll administrator?
 If you're an employer or a payroll administrator and want to sign up your company for ViewMyPaycheck,
go here
for instructions.
Assumptions
You've been invited to ViewMyPaycheck by your employer. You already have an Intuit Account or will create one when you activate ViewMyPaycheck.
Details
To access ViewMyPaycheck for the first time, you must first sign in through the invitation email that your employer sent you. Follow these steps:
First, open the invitation email from your employer.
When your employer invites you to ViewMyPaycheck, you'll receive an invitation email similar to the following: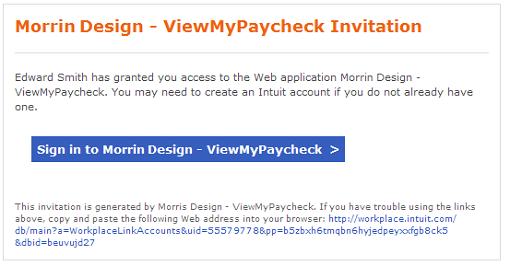 If you haven't received an invitation to ViewMyPaycheck, check with your employer.
Next, set up your ViewMyPaycheck application (also called an instance).
Click the Sign in button (the blue button) in the invitation email.
Enter the email address your payroll administrator used to send the invitation email. We'll search for an existing Intuit Account that's associated with that email address.
Note: If you have an existing Intuit Account and your payroll administrator used your user ID to send you the email, enter your Intuit Account user ID to sign in.
If you already have an Intuit Account associated with the email, you'll be prompted to enter your Intuit Account password. If you forgot your password, use the Forgot your Password? link to recover it.
If we do not find an existing Intuit Account, you'll be prompted to create one. Your email address and name are prefilled, so all you need to do is create a password, set up a security question in case you forget your user ID or password later, review and accept the terms of service, and click Create Account.
Enter your Intuit Account password and then click Sign In. When complete, you'll be signed in to the ViewMyPaycheck application.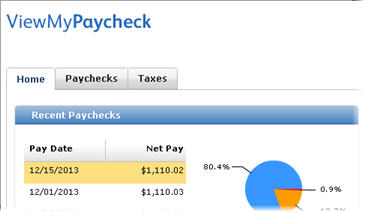 Congratulations! You've activated ViewMyPaycheck.