Top
1099 E-File Service: Sign up and use in QuickBooks Desktop
Article ID: 1002305
Overview
Intuit's 1099 E-File service is available in QuickBooks Desktop 2012 and later versions. With a few easy steps, you can e-file your 1099 misc form instead of filing them manually. QuickBooks will sync up to the 1099 e-file set up and download your data.
For information on pricing, billing and other related topics, click here.
If you are a returning customer, and have started importing information from QuickBooks, or have already used the service last year, click here.
The services (including 1099 E-File Service) and support for QuickBooks 2011 was discontinued on May 31, 2014.
Details
For new users of the 1099-Efile Service:
 This process chart gives you an overview of the tasks you have to perform to be able to start using the 1099 E-File Service.




Complete the QuickBooks 1099 Wizard.
In the step 6 of the
QuickBooks 1099 Wizard
, click
Go to Intuit 1099 E-File Service
.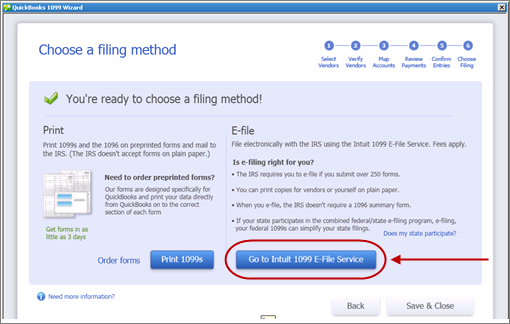 Create an Intuit Account.
Note:
Click
Return to service
if you have already signed up for the 1099 E-file service or other Intuit Business Services, and have an Intuit Account. Proceed to syncing data to Intuit App Center.
To create an account:
From The Intuit 1099 E-File Service, click Sign up.
 
Note: You may be promted to confirm your login if QuickBooks finds an Intuit Account attached to the QuickBooks data file, or if you are logged in to an Intuit website or application before, and you marked the Remember me checkbox.  You may choose to Continue, Sign up a new account, or Sign in with another user. 


Verify your email address, and then click Continue.


Complete the details required to create an Intuit Account, and click Sign Up.



Sign in using the Intuit Account login you have just created.

Step 1 of 6: Verify Company Information
From the 1099 E-File Service main window, click the
Import Information
link.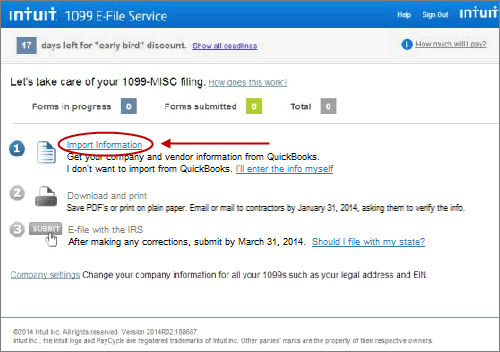 The information will be brought in from the QuickBooks data file. Complete any missing items, and then click
Continue
.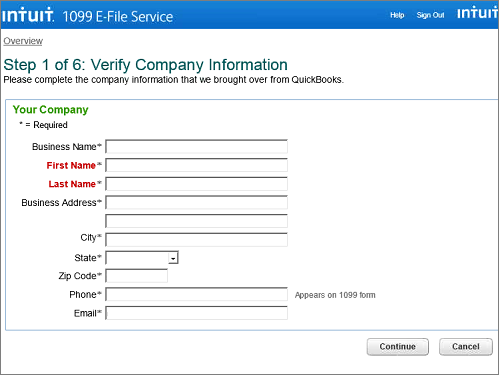 Step 2 of 6: Verify 1099 Forms
If there are vendors missing from the list, return to QuickBooks and verify all information is correct and accounts are mapped correctly. See
Set up vendor and print 1099/1096 forms

From the list of 1099 Forms, you can choose to select the form(s) you want to submit or select all, and then click
Continue
.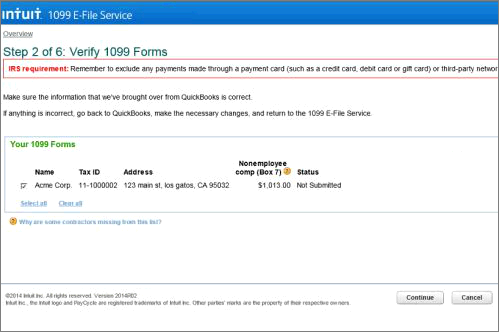 Step 3 of 6: Pay for service
Enter the billing information that will be used to pay for the 1099 E-File Service.  Review the
Number of forms
and the
Total amount
,
and then click
Approve
to pay for the service.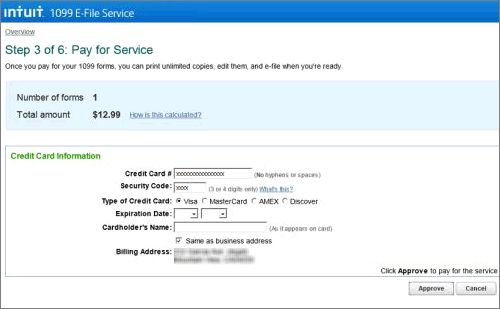 Step 4 of 6: Download Your 1099 Forms
Click the
Print For Contractors
to view and print 1099 forms. You can also click the
Download
link to save an electronic (PDF) copy of the forms that you can email to your contractors. Click
Continue
to proceed.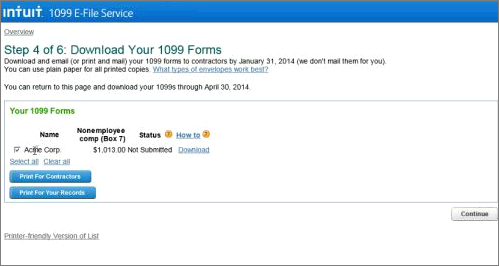 Step 5 of 6: E-File with the IRS
Click
View
to view and print the 1099 form(s) that will be e-filed with the IRS. Click
Submit
to queue the forms for e-filing, and the form(s) will be transmitted.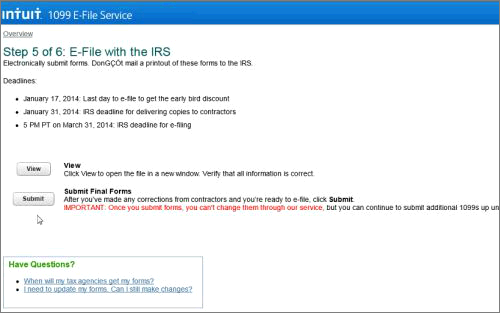 Step 6 of 6: Confirmation and Next Steps
The confirmation page shows the number of 1099 forms filed and the total amount reported.  Review the confirmation and follow the
Next Steps
.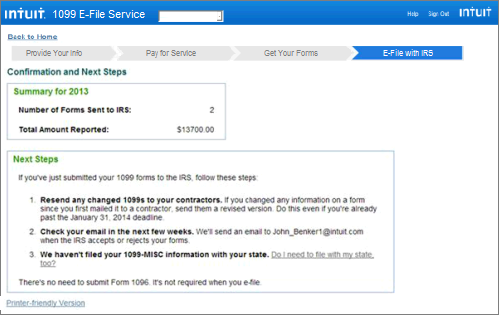 Go to Vendors> Print/1099 E-File> 1099 and 1096 Wizard.
Click Use Intuit 1099 E-File Service.
Sign in using your Intuit Account login.
If you can't remember your User ID or Password, follow these steps:
Click Forgot your Password? or Forgot your User ID? link.
Follow the steps to retrieve your Password or User ID.
Try to log in again.
If you have changed your data in QuickBooks whether the changes are 1099-related or not, the Sync Manager will detect these changes. You will be asked to review and verify your information. Otherwise, you will be brought to the 1099 E-File Service main page.
The next steps will depend on what you need to perform.
If you have not imported any information yet for the year 2013, click the Import Information link. 
If you have already started importing 1099 data and you are returning to add more forms, click Update Information.

You may also select from any of the available options Download and print or E-file with the IRS depending on the task you need to perform.
Related Articles