Top
View and print past Payroll Confirmation reports
Article ID: 1000760
Overview
If you have an active Assisted Payroll subscription or Direct Deposit service and have sent payroll to Intuit Payroll Services, follow the steps below to view and print past Payroll Confirmation reports, which you access differently than other employee and payroll reports.
Details
To view and print past confirmation reports:
Choose Employees > Send Payroll Data.
Under Items Received, a list of previous reports appears, along with other payroll reminders.
Select a report and click View.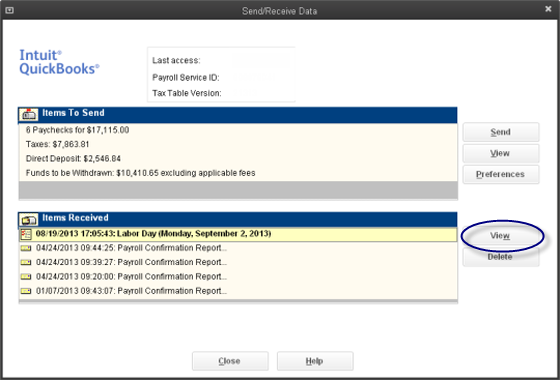 To print the report, click Print.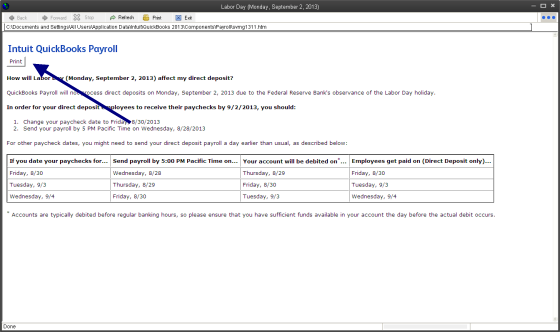 Payroll Confirmation reports are saved for as long as you are using Assisted Payroll or Direct Deposit with the Company file, unless they are deleted by a QuickBooks user. There is currently no way to download confirmation reports from previous payroll transactions if they are missing. If you are missing a confirmation report, use the confirmation email you received as well as the payroll liability check created in the bank register.
To verify that your payroll transmitted successfully, look in your bank register. Green lightning bolts next to your employees' names means the checks were sent.
You can also check previous payroll transmissions through the Account Maintenance page:
Choose Employees > My Payroll Service > Account/Billing Information.
On the Account Maintenance page, go to the Direct Deposit section (lower right) and click View Payroll Activity. When prompted, enter your Payroll PIN.
There are no Payroll Confirmation reports for payrolls sent before you started Assisted Payroll or Direct Deposit service.
Related Articles