Top
Create paychecks
Article ID: 1000756
Overview
This article explains how to run or create paychecks using different options available in QuickBooks.
Checklist Before Paying Your Employees:
Download the latest

tax table

(if applicable).
Download the latest

QuickBooks release

.
Set QuickBooks to Single-user mode.
Create employee payroll items.
Enter W-4 information into QuickBooks (normally done when you initially set up your employee).
If you want to pay employees through Direct Deposit, set up employee direct deposit information in the employee profile.
Create paychecks in the same company file where you have been creating paychecks.
Paycheck Options
There are three (3) options available in QuickBooks for creating paychecks. No matter which option you choose, the steps to create paychecks are fundamentally the same.
This should be your primary choice if you pay your employees on a regular schedule such as weekly, biweekly, monthly, etc. Scheduled payroll also allows for grouping if some of your employees are paid on a different schedule. Make sure that the payroll schedule dates are correct before running scheduled payroll. To learn more about setting up a scheduled payroll, see
How to set up a payroll schedule.
Note
: If you are a Direct Deposit or Assisted Payroll customer, the Process Payroll On date is adjusted to include transmit lead times and bank holidays.
You select Unscheduled Payroll if your employees are not set up for a Scheduled Payroll.

You can also use this option if you do not pay your employees regularly, or are paying them an off cycle paycheck or a bonus check or commission check that is not integrated with their normal paycheck.
To Create Paychecks
Choose Employees > Pay Employees. Select the option that applies to you (click to read more below).
Select from the following options:
Scheduled Payroll:  QuickBooks will take you to the Payroll Center (and Pay Employees tab in QuickBooks 2014).


From Pay Employee section (in QuickBooks 2014 the Create Paychecks section), click the appropriate schedule.
Click Start Schedule Payroll button. QuickBooks will open up the Enter Payroll Information window.

Unscheduled Payroll:  QuickBooks will take you directly to Enter Payroll Information window.
Termination Check:  QuickBooks will open up the Enter Payroll Information window. See Termination paycheck or Processing a late payroll (backdating paychecks) for steps to run or create a termination paycheck.
Verify the Pay Period Ends date, Check Date and Bank Account the monies are drawn from.
QuickBooks 2014 R5 and higher: Choose the Printing Option that applies to you.  (Click to read more below.)
If you have QuickBooks 2013 or earlier, you will be able to choose your Print Paycheck Options, after you click Continue, in Step #7-8.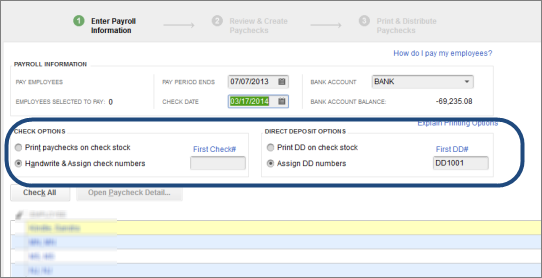 For
Check Options
:
Click Print paychecks on check stock to queue paychecks for printing from QuickBooks.
Click Handwrite & assign check numbers if you're writing your paychecks by hand.  Enter a First Check#.  When you enter a check number, the number will increase by 1 for each subsequent check written from the account specified in the Bank Account field.


For
Direct Deposit Options
:
Click Print DD on check stock to queue direct deposit advice of deposits for printing from QuickBooks.
Click Assign DD numbers to prevent direct deposits from being placed in the check-printing queue. You can still print pay stubs for your direct deposits. You can also indicate an alphanumeric starting number, which will be incremented and printed on direct deposit pay stubs.

Check mark the name of employee(s) you want to pay.
Enter or verify the employee's amounts in the appropriate columns.
To edit employee paycheck information for one paycheck only, click the employee's name to access the Paycheck Details.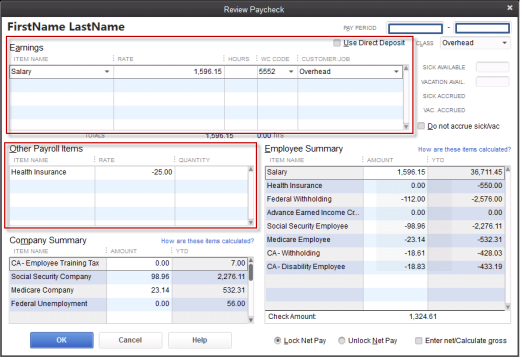 You can do this to add payroll items temporarily or to modify amounts before creating the paycheck.
If the employee uses Direct Deposit, verify that the Use Direct Deposit box is selected.
If you do not want vacation and sick to accrue on this specific paycheck, check the box to Do Not Accrue Sick/Vac.
Click Save & Next to go to the next employee, or click Save & Close to go back to the Enter Payroll Information window.
When the checks are ready to be created, click Continue.
In the Review and Create Paychecks window, review the Paycheck Options:
Print paychecks from QuickBooks to have QuickBooks print the paychecks.
Check numbers

QuickBooks 2014 see Step #3 above.
QuickBooks 2013 and earlier: Assign check numbers to handwritten checks if you're writing your paychecks by hand or sending them to be deposited directly into the employees' account.

Note: If you use direct deposit to pay your employees, you can leave the First Check Number field blank. This field can be used to enter a text memo (for example, DD), limited to 11 alphanumeric characters, which will print out on your employees' pay stubs. If you use direct deposit, but you want to print out on advices of deposit, click Print paychecks from QuickBooks.
Verify the amounts for each employee in the Review and Create Paychecks window, and click Create Paychecks.
Print the paychecks or pay stubs.
Assisted Payroll
and
Direct Deposit
customers must send payroll to
Intuit
by 5:00 p.m. (Pacific time)
2 banking days
prior to the check date. This allows enough time for the processing of direct deposit funds as well as tax payments on your behalf.