Top
Send payroll and Direct Deposit paychecks
Article ID: 1000690
Overview
After creating paychecks, if you have Assisted Payroll, Basic or Enhanced Payroll with Direct Deposit, you must send your paychecks to Intuit.
Intuit recommends you switch to Single-user Mode, before sending. Switch back to Multi-user Mode when the transmission has completed.
Assumptions
You have an active payroll subscription and would like to transmit your created paychecks.
Expected Outcome
Intuit Payroll Services will receive your payroll.
Details
Important! Your payroll must be processed before 5 p.m., Pacific Time, two federal banking days prior to your paycheck date in order to guarantee your payroll taxes are paid on time and your direct deposits go through properly. If you do not process payroll in this time frame, you may be charged a $100 backdating fee, your direct deposits will not clear on time, and you will be responsible for any payroll penalties and/or interest accrued for late tax payments.
To send your Payroll to Intuit:
Access the Send/Receive Data window.
QuickBooks Pro and Premier:

Click the Employees drop-down menu and select Send Payroll Data.

QuickBooks Simple Start:

Click Payroll at the top toolbar. You can also access this from the Home Page by clicking the Payroll icon and selecting Go to the Payroll Center.
Click the Related Payroll Activities button and select Send Payroll Data from the drop-down menu.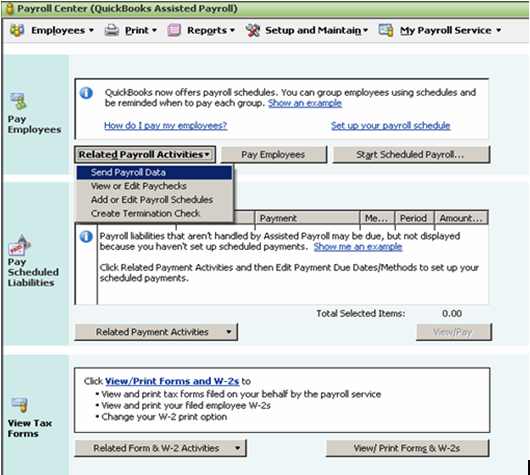 In the Send/Receive Payroll Data window, review the following information in the Items to Send area:
The paychecks to be processed.
Taxes and Direct Deposit (if applicable) amounts.
The funds to be withdrawn from your account. (The amount shown does not include applicable fees.)
Any changes in your payroll information. For detailed information about each item, select the item in the Items to Send list, and click View.
Enter your Payroll Service PIN then click OK.
When the transmission is complete, you will return to the Send/Receive Data window. Under Items Received, click View to view important payroll messages or Confirmation Reports. While viewing the item, click Print to print the report or message.
Click Close to close the Send/Receive Data window.
To check if payroll was received by Intuit:
Confirmation of payroll receipt is sent via confirmation report after transmission and the insertion of the payroll liability check in the bank register. The liability check and paychecks should have green lightning bolts in the upper left corner of the checks. If the liability check or paychecks have green lightning bolts, your payroll was sent successfully.
Note
: Individual financial institution policies determine the exact time direct deposits are posted. Intuit cannot guarantee that direct deposit funds will be available in bank accounts of employees by the paycheck date. Advise your employees to check with their banks to find out when funds are posted. See
When do direct deposits post?
for more information.