Top
E-pay 940 and 941/944 in QuickBooks
Article ID: 1000132
Overview
This article provides a step by step instruction in setting up your 940 and 941/944 scheduled tax payments for e-pay in QuickBooks.
What are the requirements to pay Federal 940, 941/944 through epay in QuickBooks?
A supported version of QuickBooks: QuickBooks 2013 and higher versions
An internet connection
A most recent payroll update
You are enrolled to EFTPS.
You have the 4-digit EFTPS PIN and the Internet Password that you obtain after enrolling to EFTPS.
How do I recover my 4-digit EFTPS PIN and/or my Internet Password if I forgot them?
Forgot the 4-digit EFTPS PIN: Call 1.800.555.4477 and IRS will resend it to you by U.S. Mail. IRS can schedule a payment for you in the meantime if you verify certain information. For security reasons, your PIN must be mailed; it can't be given to you over the phone.
Forgot the Internet Password: See Update your EFTPS Internet Password
Details
To set up your 940 and 941/944 scheduled payments for e-pay:
Go to Employees> Payroll Center.
Open the QuickBooks Payroll Setup depending on your QuickBooks version:
          In QuickBooks 2014 and 2015:
In the
Payroll Center
, go to the
Pay Liabilities
tab. From the
Other Activities
list at the bottom, click
Change Payment Method
, and continue with the next steps below.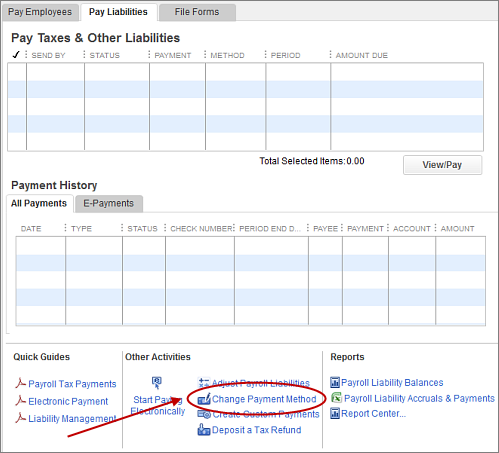 In QuickBooks 2013 and earlier supported versions:
Select
Related Payment Activities>
Edit Payment Due Dates/Methods
.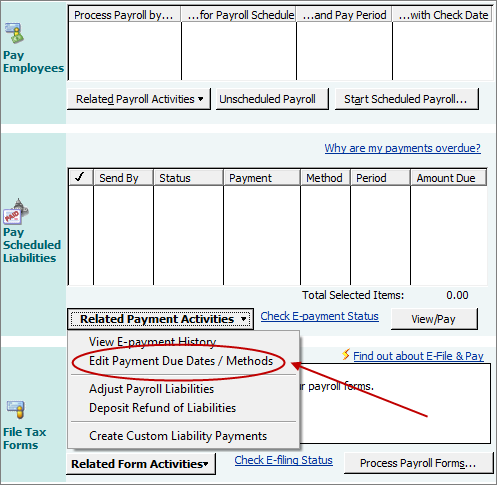 Select a scheduled tax payment (Federal 940 or Federal 941/944) and click Edit.
In the Payment (deposit) method options, select E-pay.  Make sure that the payee and payment frequency is correct.
Select the bank account where you want to track the scheduled tax payment in QuickBooks and click Edit.
Edit your bank account information if necessary and click Finish. This will bring you back to the QuickBooks Payroll Setup.
The bank account you select in QuickBooks will be used track your e-payments only
. The actual bank account that will be debited by EFTPS for your tax payments depend on what you submitted to EFTPS upon your
EFTPS enrollment
.
Click Continue. This will show you the instructions to enroll to EFTPS.  If you are e-paying your state tax payments, it will also include instructions to enroll to State Tax Agency. You may print and close the window.
At the lower left of the QuickBooks Payroll Setup window, click Finish Later.
Expected Outcome: You can now create and send your federal e-payments to EFTPS in QuickBooks. The payment must be sent before 8PM EST, two banking days prior to the due date. If the agency is experiencing problems the submission may not reach them immediately.

If it is past 8PM EST, two banking days prior to the due date, you can e-pay directly through the EFTPS website. Payments must be scheduled at least one calendar day before the tax due date by 8 PM EST to reach the Internal Revenue Service (IRS) on time. See EFTPS FAQ for more information.
To create and submit your 940 and 941/944 e-payments:
Choose Employees > Payroll Center.
Select the tax liability you want to pay.
          In QuickBooks 2014 and 2015:
In the Payroll Center, click Pay Liabilities tab.

In the Pay Taxes & Other Liabilities section, select the liability you want to pay.

          In QuickBooks 2013 and supported earlier versions:
In the
Pay Scheduled Liabilities
section, select the liability you want to pay.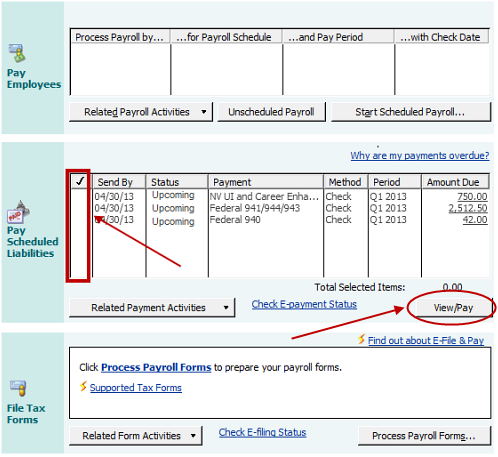 Click the View/Pay button.
This will open the liability check. If you have set up the scheduled tax payment for e-pay correctly, the E-payment option should be selected and the check should display a green lightning bolt that says Payroll Tax E-payment.
          If you get "The withdraw on date entered is not valid" error, click here.
Click OK in the error window.
In the Liability Payment window, change the Withdraw On date to at least 1 business day in advance from the day you are sending the e-payment.

If you want to be debited a day after sending, we suggest that you contact IRS instead of using QuickBooks to process the payment.
Click the E-Pay button at the bottom. This displays the E-Pay Login screen.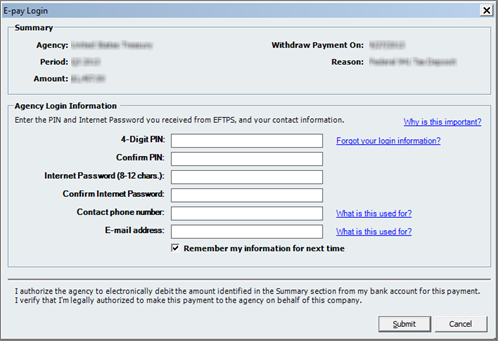 Enter the 4-digit EFTPS PIN twice, and the Internet password twice. Enter the contact phone number and verify or enter the email address.
IMPORTANT!
Enter your login details carefully. If you enter your details incorrectly, your e-payment may either be rejected by the agency or not processed in a timely manner.
If you have recently
changed the bank account for your e-payment
, use your new PIN.
Expected Outcome: You will get an email to confirm the submission of your e-payment. To ensure that the payment or form is submitted to the agency in a timely manner, it's important to check the status of the e-payment or e-filed form after it's submitted. That way, you'll have time to handle any issues that may come up.

Processing times vary from agency to agency. Some tax agencies can take 24 to 48 hours (or longer) to process electronic forms or payments and others process immediately.
Related Articles