Top
Renew or reactivate your payroll service
Article ID: 1000063
Overview
As long as your billing information is current, and you have the supported version of QuickBooks, Intuit will automatically renew your QuickBooks Payroll subscription.
Manual renewal may be required if there is an expired credit card on the account.
You may have requested to cancel your payroll service because you did not have employees to pay, but find that you need to provide W-2s and process forms. If you are reactivating the service to complete your year-end tasks, please
contact us
.
Details
To renew your payroll subscription:
In QuickBooks, go to Employees > My Payroll Service > Accounts/Billing Information.
In the Service Information section, click the Reactivate link next to the service status.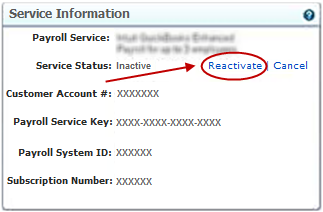 Make sure your payroll service is listed, then click Proceed to Checkout.
Select a Payment Method, update or add your payment information. Then click Submit.
Hang on... you're almost there! Click Place Order.
Lastly, select Next and then Return to QuickBooks.
Auto-renewal - your payroll service is a subscription that renews automatically, and your credit card or bank account will be automatically debited at the start of each subscription term.
Price - the cost of your subscription will appear in the Subscription Renewal window. An order confirmation or an invoice notification will be sent to the Primary Contact of your company/account upon reactivation or renewal.