Top
Update credit card information for your QuickBooks Payroll subscription
Article ID: 1000047
Overview
Your subscription is billed on an annual or monthly basis to the payment information we have on file. This article explains how you can safely and securely update your credit card information within your QuickBooks Account Maintenance page.
Auto-renewal - your payroll service is a subscription that renews automatically, and your credit card or bank account will be automatically debited at the start of each subscription term. The notice prior to the renewal and the invoice notification upon the renewal of the payroll service is sent to the Primary Contact.
Cancel - you may cancel your payroll subscription at any time through our Online Cancellation Tool.
To switch from using electronic funds transfer to using credit card to pay for your service, please contact us.
To Update Your Credit Card Information In Quickbooks:
In QuickBooks, go to Employees > My Payroll Service > Accounts/Billing Information.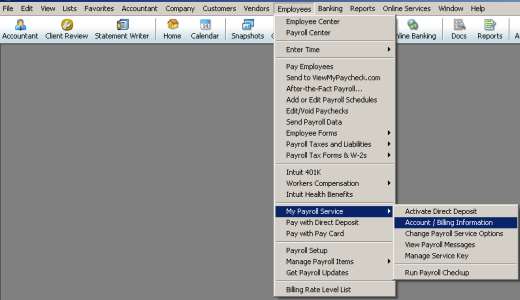 Sign in using your Intuit Account login.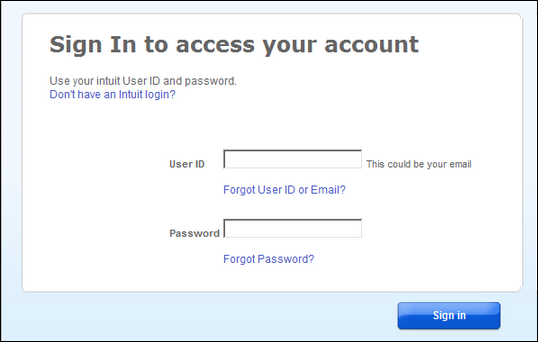 In the Annual Billing Details section, click the Edit link.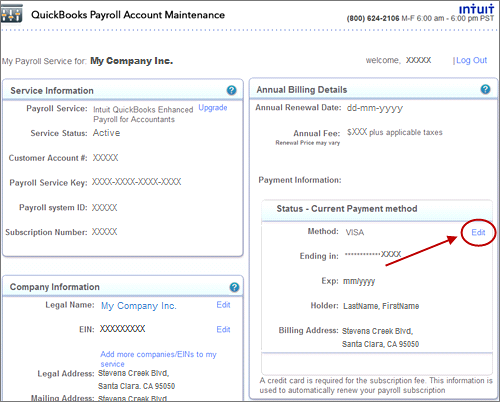 Don't see the Current Payment Method?
If you do not see any information in the
Current Payment Method
, and you see either of the following:
Add Credit Card link - this means you have not entered your credit card information when you activated your retail payroll; OR
Credit card holder and the Update Payment link - you may not be the person listed as the credit card owner.
Click the link you see to enter your new payment information.
Update your credit card information and click Continue.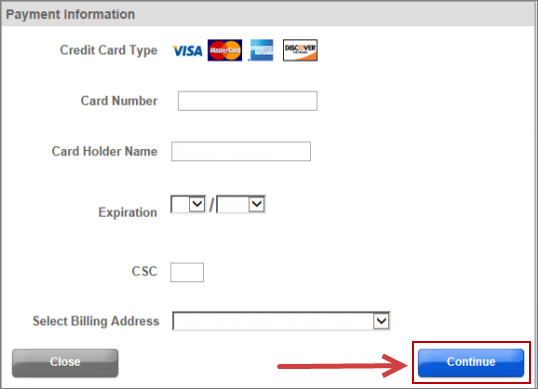 Verify the billing information is correct.
Double check:
Annual Renewal Date shows a date in the future. This is the next date you will be billed for your payroll service.
Annual Fee - The fee for your payroll subscription.
Click the Log Out link at the upper right, and close the page.
You also have the option to update your credit card through your Intuit Account:
Log in to your Intuit Account.
From the Products & Services applet at the left, click Services & Subscriptions.
Click the Update Payment link at the right of the payroll subscription.
Click the Edit link below the payment details.

Update your Payment Details.
Update your Billing address when necessary.
Click Continue. You will get a confirmation message.
Click Close. You will be back to the Edit Payment Details section.
Click Continue. You will be back to the Services and Subscriptions section.
A confirmation that your payment was submitted successfully will show at the top.  You may also review the changes you have made by directing your mouse pointer to the subscription name link.